I guess this Wednesday hike thing is becoming a habit! My mom and I headed out early this morning with the doggies for an overcast and slightly rainy hike. We rushed through in an hour and had two muddy and wet dogs when we were done.
Today was a very "on-the-go" day, but I managed to keep the food on the healthy side which is always good!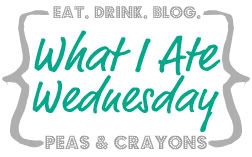 Breakfast – 9:00AM
Big bowl of protein oats (1/2 cup water, 1/2 cup unsweetened vanilla almond milk, 1/3 cup Coach's Oats
, 1/2 scoop vanilla protein powder) topped with semi-dehydrated strawberries and Cookie Butter. I've gotten in this habit of putting fresh strawberries over my oatmeal, but today I realized we were dehydrating all of our strawberries. I just took some off of one of the drying racks in the middle of the process and tossed them on my breakfast. The result was DELICIOUS, super flavorful berries. Oats were accompanied by a greens/beet juice.
Lunch – 12:00PM
Gaby made a selection of veggie options for lunch today: Brown Rice, Edamame, and Mushroom, Quinoa with Tomatoes and Farro and Beet Salad. They were all incredible.
Snack – 4:30PM
I was hungry for a snack when I got home, so I had some Egg White Ranchero Salad, Hummus and a few slices of bread to hold me over until dinner time.
Dinner – 7:30PM
We started with an arugula salad with tomatoes, cucumbers and avocado with some toast we put on the grill. Then we had some grilled swordfish with a soy ginger sauce and brown rice.