How was everyone's week? I always love 3-day weekends because before you know it you are halfway through the week! Today was a busy day, and guess what? I changed up my breakfast just for you!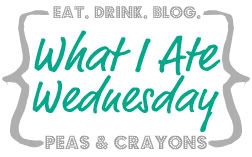 Breakfast – 9:00AM
I was in a rush to get into work this morning, so instead of my usual stove top oats, I stopped by Whole Foods and grabbed an omelette from the hot breakfast bar. This mushroom, spinach, and swiss omelette was perfect for a breakfast on the go. I paired it with some coffee raspberries I had in the fridge.
Snack – 11:00AM
Green juice! 3 weeks in to the New Year and my green juice consumption has been steady!
Lunch – 12:00PM
We were heading out to a shoot today, so lunch had to feed a big group and be easy to eat (aka by hand). We had three types of whole wheat pizza by Gaby. Five Cheese, Pepperoni and BBQ Chicken = Delicious!
Snack – 5:00PM
We had a birthday at work today and I got to indulge in one of my favorite cakes from Sweet Lady Jane. Dessert before dinner is totally normal right?
Dinner – 7:30PM 
To celebrate the birthday, we went out to Mastro's Steakhouse in Beverly Hills. We had seafood towers to start and then I had the Spicy Mambo Salad (basically a spicy Caesar) and a veggie plate for my main (I chose a baked potato, asparagus and mushrooms). I  don't love red meat (Q is still trying to convert me), so I like ordering the veggie plate here. I'm always stuffed by appetizers by the time it comes anyways, and this way I get exactly what I want…sides only!