I have to start with this adorable photo of the dogs cuddling last night. 
My mom ditched my dad and me and headed to Paris for the week, so the pups decided to sleep with me. And I must say, for two little dogs they definitely run the show. I slept on the edge of the bed with a quarter of the comforter and my head on my hand… not the best night's sleep. Food today was pretty random, heavy on the snacking, but I did get my two green juices in. Success!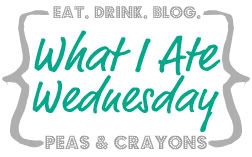 My new favorite Protein Oats and An Almond Milk Latte
In the mix:
1/3 cup Coach's Oats
1/2 cup water
1/2 cup Almond Milk
pinch of salt
1 tablespoon chia seeds
1/2 scoop vanilla protein powder (mixed in after cooking on the stovetop)
1 tablespoon almond butter
cinnamon
Green Juice!
Mixed Greens with Goat Cheese, Tofu and Balsamic Vinaigrette
Gaby's Coconut Granola
Mini Black Bean Tacos with Guacamole and Cabbage
After all those snacks, I wasn't hungry for dinner at all. Solution? Green juice and Chobani (the new Strawberry Banana flavor is amazing!).