Wednesday, you are here already?! This week is flying by, not only because Monday was a holiday, but because I am counting down the days until Q gets here (countdown is at 5!). Another exciting thing I'm looking forward to is a trip to Palm Springs this weekend to have a reunion with all of my girlfriends from college. We did a reunion back in September in Los Angeles and had talked about a "destination reunion" for the summer since then. Let me tell you it is HARD to coordinate 12 schedules, but we did it and are only going to be missing one girl who lives in Hong Kong (Kristen, we will miss you). Palm Springs forecast is looking like 100 degrees for the weekend i.e. bring out the sangria asap. I think we are going to do a dinner in one night and all cook. I'm pretty excited about that since it is right up my alley (I'm thinking my penne bake).
Anyhow… on to food from today!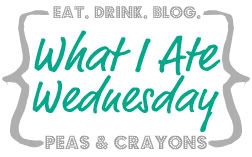 Breakfast – 9:00AM
2 egg whites + 1 egg scrambled, salt and pepper and some black beans, Mexican cheese and salsa on the side. I really enjoyed this breakfast. I usually think eggs are time consuming to make, but honestly this took less than 5 minutes. Next time I would add some avocado on top… yum.
Lunch – 12:00PM
Roasted vegetable salad with chicken. Healthy, filling, but didn't satisfy this sweet tooth…
Treat – 2:00PM
So I had two of these little chocolate chip cookies. Well worth the calories!
Dinner – 7:30PM
I was starving by the time dinner rolled around. Like it made me so cranky that I told Q I had to take a nap (which I did successfully for 40 minutes until dinner time). Does anyone else get hangry (hungry + angry)? Q and my biggest fights have names like "Subway Gate" and "the Wendy's Ordeal" that all revolved around me being hungry and cranky… I learned to always keep a Luna Bar in my purse for emergencies!
For dinner we had cucumber salad followed by tofu, veggie stir-fry, some sauteed eggplant and brown rice. Sometimes having an all vegetarian dinner is really satisfying!
And let the record state, the crankiness has slowly disappeared.
{ Comments on this entry are closed }